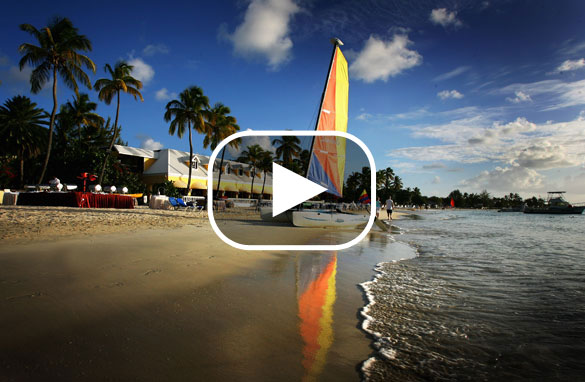 Click the play button to see what Jack and our viewers had to say.  Dickenson Bay, Antigua. (PHOTO CREDIT: GETTY IMAGES)
FROM CNN's Jack Cafferty:
Now that the Mississippi primaries are over, there is a pause in what seems like the never-ending campaign.
It's been more than a year since this all started, and it seems much longer. We've been bludgeoned with thousands of hours of news reports, dozens of primaries and caucuses, millions of flyers and tv ads, dozens of debates, never ending speeches and on and on.
But now we actually get a bit of a respite, with six weeks to go until the April 22nd Pennsylvania primary.
Now, the good people of Pennsylvania will likely grow to hate the whole process in the next six weeks because there is little else for the candidates to do but inflict themselves on those poor folks. Hillary Clinton and Barack Obama will eventually come to be looked upon as guests who just don't know when it's time to leave.
The Wall Street Journal reports the Clinton campaign's plans include blanketing the state with events, recruiting thousands of volunteers and making strategic attacks on Barack Obama. For his part, Obama will also dedicate lots of time and resources to Pennsylvania, although his campaign is expected to talk about it as only one of several upcoming contests, including states like North Carolina, Indiana, West Virginia and Nebraska.
But for now, most of the country gets a break.
Here's my question to you: How do you plan to spend your six-week vacation from the campaign?
Interested to know which ones made it on air?
Jerry from Roselle, Illinois writes:
Jack, Let's see: I can stop using Murine for my eyes, which were glued to CNN. I can have my meals stopped by "Meals on Wheels". I can open the front door and let all the pundits out so they can finally take a bath. I can get that Lazy Boy back in shape for the 2012 election which will probably start in 2009. Will be tough without The Jack Man, Wolf, John King, Gloria and The Situation Room. Bon Voyage.
K. writes:
I live in Las Vegas so I will be placing daily bets on how far the party will continue to splinter and divide itself over the next 6 weeks, creating a smooth path for McCain to become the next president. How sad!
Garrett writes:
Jack, What I will do is irrelevant. I'd like to suggest however that Hillary, Barack and John go to back to DC, at least for the first 3 weeks, and actually do some work in their real jobs as U.S. senators. Yeah, I know, too much to ask.
Patricia from Palmdale, California writes:
By not watching the news. I'll still watch you, Jack. But, I may not pay as close attention to Wolf.
Carol from Norwood, New York writes:
I've become a political addict, thanks to CNN. When I get home from work I make a bee-line to the TV. You've got me hooked, so I guess I'll spend my vacation with you guys.
Drew from Peoria, Illinois writes:
Beating my head against the wall, trying to forget what I have seen unfold and fall apart over the past couple months. Maybe I'll try water-boarding myself.
Leslie from Tennessee writes:
I'm going to be reading Jack's book, "It's Getting Ugly Out There." The poor thing has been gathering dust on my nightstand.