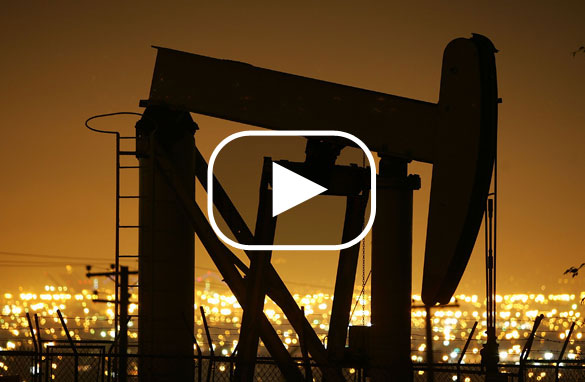 Pumps draw petroleum from oil wells before dawn as the cost of crude oil tops $104 per barrel in its surge to new record high prices March 6, 2008 in Signal Hill, California. (PHOTO CREDIT: GETTY IMAGES)  Click on the play button to see what Jack and our viewers had to say.

FROM CNN's Jack Cafferty:
Vice President Dick Cheney is on his way to the Middle East to do something about skyrocketing oil prices. We'll pause here to give you a chance to stop laughing. Cheney will meet with the leaders of Saudi Arabia, Oman and Turkey. The White House says it wants OPEC to increase production.
This is the same Dick Cheney who was chairman and CEO of Halliburton before becoming vice president. The same Dick Cheney who headed up the administration's highly secretive energy task force. The administration's energy policy, such as it is, was crafted with the help of oil industry executives and lobbyists including former Enron Chairman Ken Lay. These meetings were held behind closed doors and the records from them remain secret to this day.
Here is what has happened since Cheney's secret energy meetings: When George Bush was sworn in as president in January, 2001, a gallon of gas cost $1.47 and a barrel of crude oil cost $30. Today gasoline costs an average of $3.22 and many experts are predicting it will hit $4 this spring. This morning, the price of a barrel of crude oil nearly hit $110.
And, while ordinary Americans suffer with increasingly crippling energy costs, the oil companies continue to rake in record profits. Exxon Mobil earned more than $40 billion last year. Oh, and they all get tax breaks, too, courtesy of your friends at 1600 Pennsylvania Avenue.
Here's my question to you: Is Vice President Dick Cheney the right person to go to the Middle East to try to bring down skyrocketing oil prices?
Interested to know which ones made it on air?
Sean writes:
I can not believe that he is seriously going to the Middle East to discuss oil costs. He is part of the reason that we pay what we pay right now, and he wants to be the savior? Your typical politician. This administration has to have other countries laughing.
Anthony from Cadiz, Ohio writes:
Are you kidding? Again the details of the meeting will be kept secret from the general public, and again will result in yet another increase in gas prices and probably an increase in Cheney's wallet as well.
Lee Anne writes:
I'd write a comment but I am laughing so hard I can barely see the keyboard.
Janet from Phoenix, Arizona writes:
We ought to send 50 citizens over and let them represent the United States, one person from each state. No politicians, period. The citizens are the ones who are suffering, not those fat cats in D.C.
Daniel writes:
This administration is the biggest joke the United States has ever seen. The fact that they think the American people are stupid enough to accept Dick Cheney as the diplomat to bring down oil prices is laughable. I'm counting the days that they have left in office.
Kent from Kewanee, Illinois writes:
Cheney will ask them to bring down the prices just before November. Then, after the election the prices will skyrocket back. The current administration is knee deep in oil. They know what is going on, and helped create it. This will not work anymore. The public is on to you, Bubba Bush.
Angela writes:
ROFLMAO & PMP! In case you don't speak IM that means: rolling on floor laughing my *arse* off and peeing my panties!
Alan writes:
Sending Cheney to the Mideast to bring down oil prices is like sending Eliot Spitzer into a brothel to shut it down.