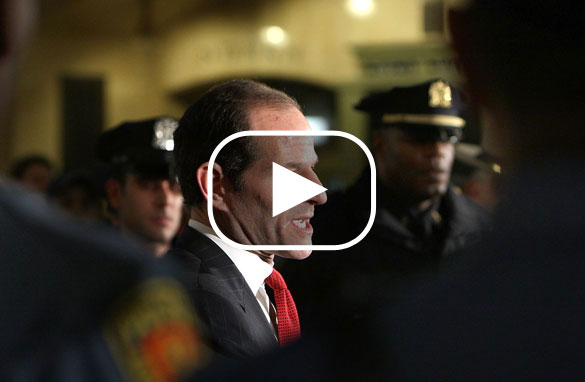 (PHOTO CREDIT: GETTY IMAGES)
FROM CNN's Jack Cafferty:
New York Governor Eliot Spitzer is apologizing to his family and the public for a personal matter he's not giving details on.
But the New York Times reported that Spitzer told advisers he was involved in a prostitution ring. Apparently the governor was caught on a federal wiretap arranging to meet with a prostitute at a Washington hotel.
Keep in mind, this is a guy who pledged to bring ethics reform to the state's capital. Back when he was attorney general, Time magazine named him "Crusader of the Year" and the tabloids dubbed him "Eliot Ness." What is it about politicians and illicit sex?
Former President Bill Clinton tried to cover up the Monica Lewinsky scandal, repeatedly declaring his innocence and insisting he "did not have sexual relations with that woman" before he was eventually impeached by the House.
A few years ago, New Jersey's Governor Jim McGreevey, also a married father, resigned after revealing he was gay and had an affair with a man, a former employee whom he had named as head the state's Office of Homeland Security.
Then there was Congressman Mark Foley. He also resigned after reports that he had sent racy e-mails to at least one underage male page.
And we have Larry Craig, who is still a member in good standing of the United States Senate, despite the fact that he was arrested in the Minneapolis Airport after cruising the men's room there trying to solicit sex from an undercover cop.
Why do politicians think they can hide this kind of stuff from the public and get away with it?
Here's my question to you: Will New York Governor Eliot Spitzer have to resign after a report that he's involved in a prostitution ring?
Interested to know which ones made it on air?
B. writes:
You hit it on the head, Jack. Why these politicians feel they can roam with free reign is beyond me. Why do these elected officials feel they can put themselves in situations where they jeopardize their integrity and embarrass those who support them? It makes me sick as an American and I can only imagine what foreign nations think.
Sean from Los Angeles writes:
Spitzer will probably have to resign. Why? Because he's a Democrat. But Louisiana Senator David Vitter also cavorted with prostitutes and he didn't have to resign. Why is that? Because, as always, It's OK If You're A Republican.
Mat from Boothwyn, Pennsylvania writes:
Of course he won't have to resign. In this short attention span nation of ours, something else will come along and draw our focus away from this, just like it did for the Larry Craig scandal.
Robert writes:
It has been too long since we have held politicians to a higher standard. I feel that ethics and morality are driven by society. What we expect is what we get. If we don't expect quality, how can we expect to receive it? Spitzer should resign.
Gary from Hillsborough, North Carolina writes:
Does this mean Hillary will lose one more superdelegate?
Todd writes:
He should tell the people what sins he's committed and let them decide. Politicians have lived through sex scandals before and many have survived them.
Jim from New York writes:
Spitzer is client 9. His enemies are on cloud 9. Who cares? Why don't we focus on the real problems our country is facing?
Randy writes:
If he is guilty, then he should resign, get counseling, and get a good divorce lawyer.
Joe from Marion, Illinois writes:
Jack, Today we had reports of pharmaceuticals in our drinking water. Spitzer got some of The Ventures "Love potion number nine" in his drinking water!