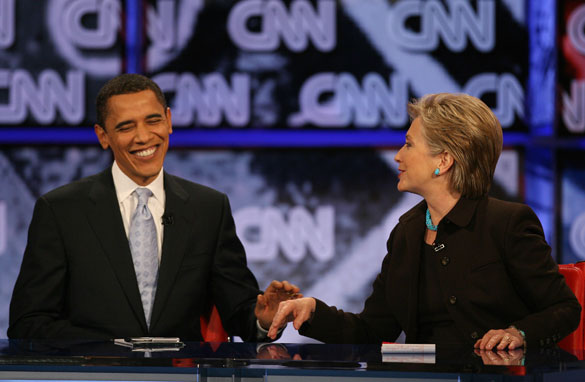 Sen. Barack Obama and Sen. Hillary Clinton participate in the televised CNN/LA Times/Politico Democratic Debate in January 2008. (PHOTO CREDIT: GETTY IMAGES)
FROM CNN's Jack Cafferty:
It's called chutzpah, and Hillary Clinton has it to spare. The woman who is behind Barack Obama in states won, pledged delegates and popular vote is suggesting she might consider putting Barack Obama on the Democratic ticket with her as her vice presidential candidate.
Since her wins in Texas and Ohio, Hillary Clinton has twice referenced the idea. And over the weekend, Bill Clinton chimed in saying that the pair would make "an almost unstoppable force." It's all very interesting since the odds are quite good Clinton will not be the nominee and Obama will.
In today's New York Daily News, columnist Michael Goodwin writes: "It's a dream team all right, as in dream on. It's a fantasy because, in the Clintons' pitch, naturally, she is on top of the ticket and Obama is her No. 2. That's rich of her, considering that Obama leads in both the delegate race and the popular vote. Forget those pesky voters – Hillary has declared herself the winner!"
Goodwin calls it a sign of desperation on Clinton's part and compares her to a con artist trying to sell a house she doesn't own. He says the joint ticket offer looks like an olive branch, when it's really a knife aimed at cutting Obama down to size.
For his part, the front-runner Obama calls the whole thing "premature", saying he's won twice as many states as Clinton, more of the popular vote and thinks he can hold onto the delegate lead.
And there is a rather large irony in all this. Hillary Clinton has spent most of the campaign saying Barack Obama isn't experienced enough to be president. But now all of a sudden, she's promoting him as a potential vice president… just a heart beat away from the top office.
Here's my question to you: Why would Hillary Clinton, who is behind, keep talking about being on the same ticket with Barack Obama, who is ahead?
Interested to know which ones made it on air?