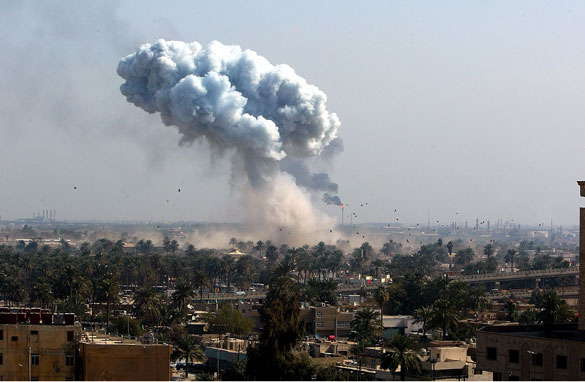 A huge plume of smoke rises from powerful explosions near the offices of the head of the Islamic Supreme Council of Iraq, Shiite cleric Abdul Aziz al-Hakim, on February 11, 2008 in Baghdad, Iraq. (PHOTO CREDIT: GETTY IMAGES)

FROM CNN's Jack Cafferty:
One of the three remaining presidential candidates will have to figure out how to address the tinder box that is the Middle East, which exploded again yesterday.
In Iraq, twin bombing attacks ripped through a Baghdad commercial district, killing 69 people and wounding 120 more. It was the deadliest attack in the Iraqi capital in more than a month. These bombings remind ordinary Iraqis that although this kind of violence has decreased, it's still a risk from day-to-day 5 years after the U.S. invasion.
In Israel, a gunman opened fire on a Jewish seminary in Jerusalem killing eight people, including an American, and wounding nine more. It's believed the attack was planned by a group with ties to Hezbollah. Seems to lower hopes for that peace deal that President Bush is still holding out for before he leaves office.
The headaches in this part of the world are many. John McCain, Hillary Clinton or Barack Obama will have their hands full. Remember Afghanistan? More than 6 years after the U.S. invasion, President Hamid Karzai controls only 30% of the country. The tribes rule the rest of it and Osama bin Laden is still at large.
Iran's president continues to cozy up to the Iraqis while refusing to halt uranium enrichment and accelerating the country's nuclear program.
The Bush administration's policy in the Middle East has been nothing short of a disaster. There have been no consequences for him for all the problems he has caused there. Instead he will leave office and leave it all for someone else to clean up.
Here's my question to you: What should the next president do about the ongoing crises in the Middle East?
Interested to know which ones made it on air?
Jeff from Galena, Missouri writes:
Well, let's see Jack, I would say they need to: 1) Do what they can to calm the region in the short term. 2) Get all American troops out of the Middle East, not just Iraq, because the simple fact that they are there only inflames the hatred and violence. 3) Turn our country's attention to renewable alternative fuels.
Gary writes:
Turn the international problems over to the organization that we helped create for this purpose, the UN. They couldn't do any worse of a job than we have.
Mary from California writes:
Regardless of what is done, the conflict will always be with us. Their culture is thousands of years entrenched and we will never bend them to our will. The best we can hope for is non-nuclear solutions.
Leffry from Baltimore writes:
I think Obama has this one right. When did talking with your enemies become a bad move? We need to sit down at a table and hammer out these differences.
Ian from Canada writes:
Only one thing you can do to a fire: take away the oxygen. Cut off all aid to any Middle Eastern country (including Israel) and put a cap on import quantities (including oil) until these children pull their collective heads out of their butts and sign a peace agreement. You asked.
Mike from New Orleans writes:
Apparently the Republican nominee plans on bombing Iran and committing U.S. soldiers in Iraq for the next hundred years. That ought to fix everything.