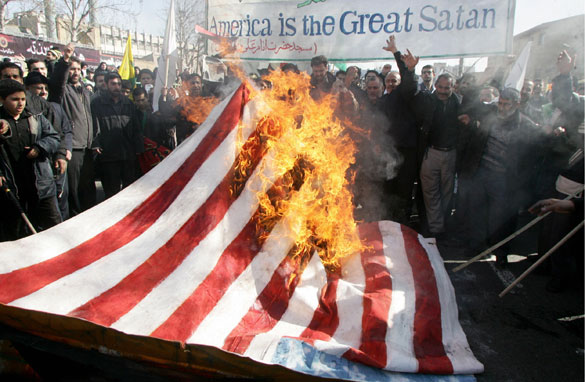 Iranian demonstrators burn a US flag during a rally to mark the 27th anniversary of the Islamic revolution in Tehran, Iran. (PHOTO CREDIT: GETTY IMAGES)

FROM CNN's Jack Cafferty:
The next president – be it John McCain, Hillary Clinton or Barack Obama – better bring a big shovel, cause it's going to take awhile to muck out the Bush barn. A top concern of many Americans is what's happened to our image abroad.
Americans are very unhappy about where we stand. Since February 2001 – right after President Bush took office – the public's dissatisfaction with our position in the world has more than doubled according to a new Gallup poll.
In February of 2002, the dissatisfaction level was 27%. That's not very long after the 9/11 attacks. That number rose to 50% in the lead-up to the Iraq war. It dipped down to 29% right at the beginning of the war in 2003. But it didn't stay down for long because when the American public found out the invasion of Iraq was based on a batch of lies, the rest of the world found out, too. Today Americans' dissatisfaction level stands at 68%. That's the highest level Gallup has ever recorded on this question, including during the Vietnam war.
There's more bad news. In February of 2001, the number of Americans who thought our country was viewed favorably by the rest of the world stood at 75%. Today that number has fallen to fewer than half of us, just 43%.
So when it comes down to it, one of these three candidates is going to have a lot of fence mending to do.
Here's my question to you: Which candidate would do the best job restoring America's position in the world?
Interested to know which ones made it on air?
Joe from Hattiesburg, Mississippi writes:
Barack Obama is the best positioned to restore faith in America. His judgment was sound regarding Iraq. Experience means nothing if judgment is poor. His unifying campaign has shown the world how he will interact with each and every country. His campaign has curbed my cynical perception of politics.
Tom writes:
Clinton. She has the contacts, history and experience to bring faith in America back to us, and the world.
John writes:
Any Democrat will do. As someone who travels around the world, the scorn of the Bush administration, its policies, and practices are evident and hard to explain. Today it is easier to say you are from Canada.
Christian from Tampa, Florida writes:
Obama has the clear advantage: Obama-mania among the residents of Obama, Japan. Obama-mania all over Africa, particularly in his father's native land of Kenya… The fact that Obama's middle name is Hussein leads many in the Middle East to believe that maybe America is changing, is different from what they thought it was. What Barack Obama lacks in experience, he more than makes up for in worldview, image, policy ideas and ideals, and ability to connect with people in other countries.
Paul writes:
No one is better than a real American hero like John McCain.
Tina writes:
Hillary Clinton. Despite those who do not like the Clinton name, the rest of the world does.
Kelly from Orlando, Florida writes:
Obama has the ability to inspire and motivate people, get them excited about politics and look at Washington in a different light. If he can excite American citizens like that, he can do the same for the rest of the world. The world is watching, waiting to see what we will do next.