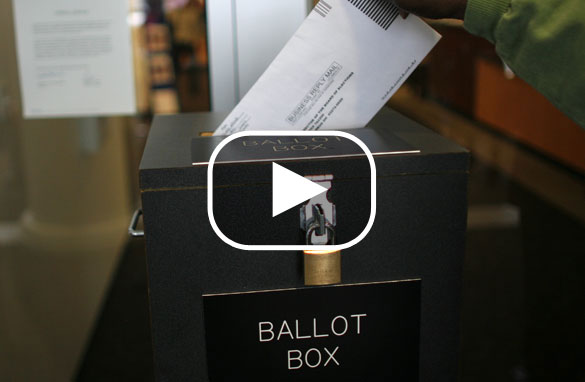 A voter drops off an absentee ballot at the Franklin County Memorial Building March 3rd in Columbus, Ohio.(PHOTO CREDIT: GETTY IMAGES) Click the play button to see what Jack and our viewers had to say.
FROM CNN's Jack Cafferty:
The 2008 primary election will go down in the history books for many reasons: the first serious female candidate, the first serious African-American candidate, record-shattering fund-raising, and record turnout.
Americans have been stampeding to the polls in record numbers ever since the Iowa caucuses. And it looks like today will be no exception. Heavy turnout is expected at the polls in Texas and even in Ohio, where they're being hit by heavy rain storms. In Texas, an estimated 60% of voters, that's about 2 million people, cast their ballots early.
Even the smaller New England states of Vermont and Rhode Island are expecting record crowds. Usually these primaries don't matter all that much since they come after Super Tuesday, but that's not the case this year.
Vermont's secretary of state is predicting a record number of voters. In Rhode Island, officials think they'll see turnout levels double those of the 2000 primary. They're expecting so many people that they've opened extra polling places.
This is all very encouraging for our democracy. Over the last couple months, we've seen huge numbers of first-time voters and young voters revved up and eager to make their voices heard in this election.
However, some suggest this is a troubling sign for the Republicans come November. In state after state, the turnout of Democrats has dwarfed the number of Republicans voting.
Here's my question to you: What is it about the 2008 election that's generating record turnouts around the country?
Interested to know which ones made it on air?

Judith writes:
I believe American voters have felt so helpless during the current administration, we are turning out in record numbers to take matters back into our own hands and to make certain that there is no 'close call' as occurred in the last presidential election. When that election was awarded to Bush, I think many people realized, 'Hey, my vote really would have mattered.'
Ashley writes:
I believe there is such a good turnout this year because Democrats are stepping up, scared of what would happen if a Republican is in the White House for another four years. And I believe that more young people are stepping up. As a 23-year-old Democratic voter, I know those are my friends and school mates fighting in Iraq and Afghanistan and we are all being majorly affected by that.
Gaye from New Jersey writes:
It has been a long time since any politician told the American people that we could reclaim our government from the hands of special interests, that our votes would make a difference and that our children could indeed have a better future. All it takes is taking responsibility for it. Maybe we have learned, that you can not hand pride to people with a check, we have to earn it. We can be part of it.
Dawn from Lake in the Hills, Illinois writes:
I can't remember a time when we actually had a choice and it wasn't for the lesser of two evils (Democratic vs. Republican). While my vote is for Obama, I don't exactly feel we're doomed with Hillary either. I like what the Democratic Party has to offer and now there is a choice on who can deliver it. Refreshing, isn't it?
Margot from San Francisco writes:
Easy. When people are happy, they are apathetic. When they are unhappy, they hit the voting booths in order to "throw out da bums" in power. People are unhappy with the Cheney administration and all that it stands for.
Steve from Oak Creek, Wisconsin writes:
This is a new American Revolution. We are doing nothing more than taking back our country from those who would do it irreversible harm. The votes cast may be some of the most important in modern history.