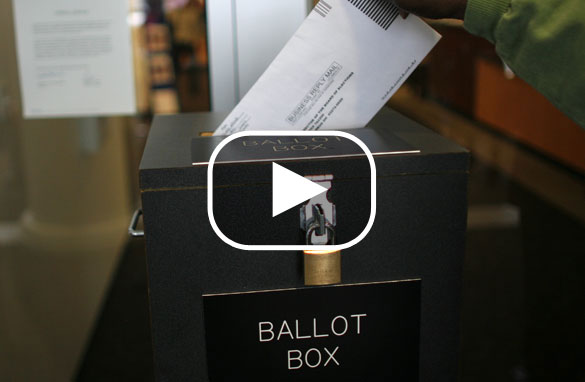 A voter drops off an absentee ballot at the Franklin County Memorial Building March 3rd in Columbus, Ohio.(PHOTO CREDIT: GETTY IMAGES) Click the play button to see what Jack and our viewers had to say.
FROM CNN's Jack Cafferty:
The 2008 primary election will go down in the history books for many reasons: the first serious female candidate, the first serious African-American candidate, record-shattering fund-raising, and record turnout.
Americans have been stampeding to the polls in record numbers ever since the Iowa caucuses. And it looks like today will be no exception. Heavy turnout is expected at the polls in Texas and even in Ohio, where they're being hit by heavy rain storms. In Texas, an estimated 60% of voters, that's about 2 million people, cast their ballots early.
Even the smaller New England states of Vermont and Rhode Island are expecting record crowds. Usually these primaries don't matter all that much since they come after Super Tuesday, but that's not the case this year.
Vermont's secretary of state is predicting a record number of voters. In Rhode Island, officials think they'll see turnout levels double those of the 2000 primary. They're expecting so many people that they've opened extra polling places.
This is all very encouraging for our democracy. Over the last couple months, we've seen huge numbers of first-time voters and young voters revved up and eager to make their voices heard in this election.
However, some suggest this is a troubling sign for the Republicans come November. In state after state, the turnout of Democrats has dwarfed the number of Republicans voting.
Here's my question to you: What is it about the 2008 election that's generating record turnouts around the country?
Interested to know which ones made it on air?