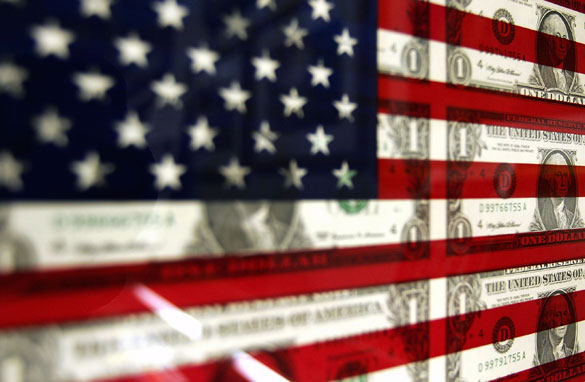 (PHOTO CREDIT: GETTY IMAGES)
FROM CNN's Jack Cafferty:
What's happening to the American dream? Among other things, a lot of Americans are worried they won't have enough money for their retirement years.
A new Gallup poll shows 47% of those surveyed are concerned about outliving their money after they retire. That number jumps to 53% when it comes to those between the ages of 30 and 64.
It's no secret that a lot of Americans are feeling a financial squeeze in today's uncertain economy. For many, this means they've decided to delay their retirement. This poll found 45% say they fear they'll have to retire at a later age than they originally planned; this is a big concern especially among younger people.
Rising costs of everything from food to energy, health care and tuition have a lot of people worried they won't be able to pay their bills. 44% worry they won't be able to afford college tuition for a child or another family member. 26% have doubts about paying off college debts, and 33% are concerned that they won't be able to pay medical or health care costs in the next year. When it comes to people's biggest asset, their home, 43% are afraid it will lose value in the next year.
It didn't used to be this way. And yet President Bush insisted today we're not headed for a recession.
Here's my question to you: How concerned are you that you'll have enough money when you retire?
Interested to know which ones made it on air?
Shawn writes:
My father has worked at GM for 42 years. Both my sister and I are in college. I am in my fifth year and my sister is in her third year. Each year, our college tuition goes up roughly $3,000. My mother had to go out and get two jobs that pay minimum wage, on top of my church job and my sister's clothing store job. We have no money, our college loans are way above our heads, and we can't sell our house because the economy sucks so bad. My dad is 60.
Greg from New York writes:
As a 24-year-old fresh out of college and just starting this real world thing, having enough money when I'm retired seems like an issue that's very far off. Thing is though, with Bush's excessive spending on the war and dipping into other federal funds, I'm more worried about things like Social Security not being there for me even though I'm paying for our seniors now. Don't get me wrong, I don't mind doing them this service just as long as someone is able to return the favor when I'm old enough.
Beverly from Bethlehem, Pennsylvania writes:
I have a magnet on my refrigerator that says, "Financially I am set for life, provided that is, that I die next week." My 65-year-old husband continues to work full time, driving almost 1.5 hours one way to work. I work as a RN in a busy hospital, having several years to go until retirement. I continue to work after knee replacement surgery, rotator cuff surgery, and carpal tunnel problems. The job risks that cause these problems also provide me with health care that I could not otherwise afford. What a catch 22 that is!
Kristen writes:
Sure, I 'm worried about enough money for retirement. The problem is, we're already retired. And hurting.
Independently from Pennsylvania writes:
I have a fool-proof retirement plan: I plan to be elected to the U.S. Senate. It is one of the few places where you can remain gainfully employed far beyond your usefulness or competence. The salary and benefits have no relationship to your service to the nation. I'm planning to head a committee that will investigate a shortage of sports-related balls. The press can dub it "No balls gate"