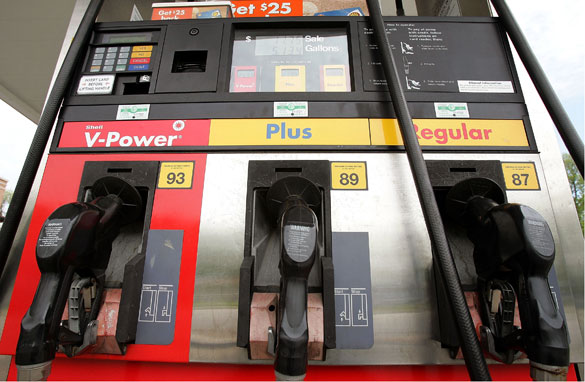 (PHOTO CREDIT: GETTY IMAGES)
FROM CNN's Jack Cafferty:
$4 a gallon, and maybe more, is the dire prediction for gasoline prices by this spring.
Gas prices have lagged behind oil prices for months, but it looks like they could soon be catching up. The price of crude oil spiked above $102 a barrel today for the first time ever and diesel prices continue to hit record highs on a daily basis.
One Harvard economist tells the New York Times, "The effect of high oil prices today could be the difference between having a recession and not having a recession." It's clear that higher gas and oil prices are just the latest bad news for our economy which is being buffeted by the housing collapse, the credit crisis, rising inflation and a weakening dollar.
If people are forced to spend more on energy costs, it follows they will have less money to spend on other things. Economists say that in December, Americans were spending more than 6% of their disposable income on energy. That's the highest level since 1985.
Regular unleaded gasoline costs an average of $3.15 a gallon today; that's up from about $2.35 a year ago. It also represents a jump of 20 cents gallon in just the last two weeks. And prices are expected to accelerate from here.
Here's my question to you: How would gas prices of $4 a gallon or higher affect your life?
Interested to know which ones made it on air?

Jack from Fort Myers, Florida writes:
I would no longer be able to commute to work 5 or 6 days a week. It would mean leaving my very nice city home for a condo and a job that is near public transportation access, which would definitely pay much less, but would allow me to manage my finances for the next 12 years before I go into retirement.
R. writes:
It will affect us drastically. We have an RV that's become a guest house. We live in a rural setting, so everything is at least ten miles to town. This year, we paid $600 in public school bus passes because the state budget doesn't include increased gas prices and the district has to make it up somewhere. We have five nephews we are raising ...that's only for three of them. Home schooling is looking like a better option as public school is being priced out of our budget.
Barbara writes:
If the gas price goes to $4 a gallon, looks like we will starve to death trying to drive to the grocery store. We are on a fixed income and barely make it now.
Mike writes:
The more relevant question is: How many more billions of dollars do you think the oil companies are going to make in obscene profits?
Liz from Massachusetts writes:
We're already driving 50% fewer miles at current rates, heating 40% less of the time, rarely eating out and our grocery budget has gone from $120 a week to $100. So at $4 per gallon, it'll force us to walk, ride our bikes more, never eat out and cut our grocery budget by another $20. In short, we'll get skinny.
John writes:
As of right now, I can't afford a car so I am relying on mass transit. And soon I'll have a bicycle on the road. But once I can get a car, then gas prices may keep me from using it. If it's not one thing, then it's another. And frequently it's more than one at a time.
Brian from Fort Mill, S.C. writes:
I'd redesign my car's engine to run on milk. It's a lot cheaper.