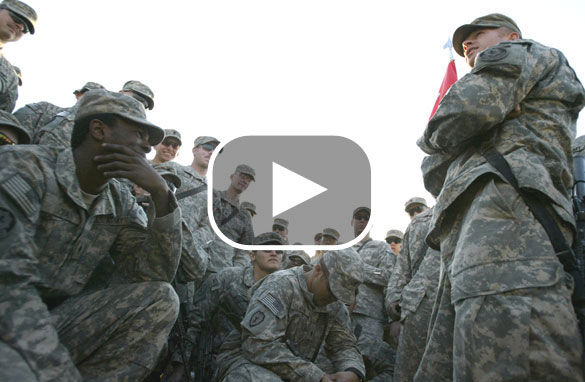 3rd battalion 2nd Stryker cavalry regiment on the outskirts of the restive city of Baquba, northeast of Baghdad, January 2008.  Click the play button to see what Jack and our viewers had to say.
(PHOTO CREDIT: GETTY IMAGES)
FROM CNN's Jack Cafferty:
John McCain is tying his future to what happens in Iraq. He says he will lose the race for the White House if he can't convince Americans that our policy in Iraq is succeeding. He may be onto something.
Not long after the words came out of his mouth, McCain tried to put them back in, which hardly ever works. McCain said he wanted to retract the "I'll lose" comment, but added that how the American people judge Iraq will have a direct relation on how they judge him.
It's not an unreasonable proposition that McCain sees his future so closely entwined with the war in Iraq. Last summer, when a lot of U.S. troops were dying there and McCain was supporting the surge, his campaign was losing staff, short on money and close to collapse.
McCain claims both Hillary Clinton and Barack Obama were both wrong about the "surge" and points to recent political progress in Iraq. What he doesn't mention is that Obama was opposed to the invasion of Iraq from the outset, while Clinton voted for it. Both Democratic candidates insist that if elected, McCain would only continue President Bush's "failed" policies. And they highlight his remark that U.S. troops could be in Iraq for 100 years at every opportunity.
McCain has his work cut out for him. Despite the decrease in violence in Iraq and some political progress, five years after the invasion, about 60% of Americans still think the war was a mistake.
Here's my question to you: John McCain says he could lose the election over the Iraq war issue. Is he right?
Interested to know which ones made it on air?
Jeff from Boston writes:
The Iraq war was sold to us as part of the war on terror. It wasn't, and it has only created a new generation of Islamic extremists who hate us. The fact that both Senators McCain and Clinton failed to understand and articulate the difference between the Iraq war and the war on terror suggests either a failing of the head or the backbone. Either way, neither would make a good president.
Robert writes:
Yes, I think that McCain's presidential chances are dead on arrival! His unwavering support of the Iraq travesty has secured the presidency for the Democrats. He is in the dark; poll after poll has stated that the American public does not like this war and yet he, just like the current buffoon in the White House, continues to support this war. Time for a change.
Will writes:
Jack, You do not give McCain enough credit for bravely defying public opinion in order to support the troop surge, which is showing results. We have been in Japan for over 60 years and similarly, in this conflict, we will have to keep troops in the region permanently. Those are just the facts, and John McCain is just telling the honest truth.
Gail from St. Paul, Minnesota writes:
McCain, and anyone else who's tied his future to the Bush/Cheney disaster in Iraq, will be blown away as soon as you guys in the media stop letting them say "the surge is working." Yes, it's helped. But why don't you hammer on the truth that radical Shiite cleric Muqtada al-Sadr called for a cease-fire 6 months ago? That he recently threatened to end the cease-fire and could do so anytime he chooses? Then we'll see just what our continued occupation of Iraq will mean for our soldiers. McCain doesn't get it.
Leia from Washington writes:
McCain has taken such a hard-nosed stance on the Iraq war, that there is no room for him to back out of it. He has adamantly supported a war that the majority of Americans, 60% even now, say was a mistake. That's not Republican. That's not Democratic. That's the American perspective. He is in trouble and frankly, any man (or woman) who supports a war that has taxed our military, torn apart many of America's families, and left us with obscene death and debt tolls should be.