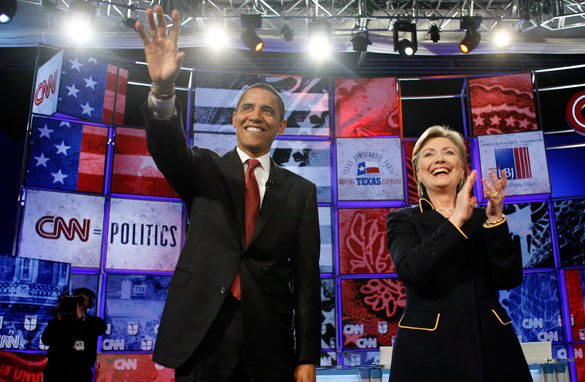 Sen. Barack Obama and Sen. Hillary Clinton debate in the Lyndon B. Johnson Auditorium at the University of Texas on February 21, 2008 in Austin, Texas. (PHOTO CREDIT: GETTY IMAGES)
FROM CNN's Jack Cafferty:
Hillary Clinton has her work cut out for her when it comes to tonight's debate in Cleveland, Ohio. If she has any hope of closing the gap on front-runner Barack Obama next Tuesday in Texas and Ohio, Clinton has got to deliver a big night tonight…a really big night.
The question is, "Which Hillary Clinton will show up?" In the last few days, we've just about seen it all.
At Thursday's debate in Austin, Texas, Clinton showed a softer side – saying she was "honored" to be there with Barack Obama. A couple of days later she morphed into a scolding mother talking down to a child, waving her finger and saying "Shame on you, Barack Obama."
She called him out demanding he "meet her in Ohio for a debate on his tactics and behavior in the campaign." She wasn't finished. Resembling someone with multiple personality disorder, last Sunday Clinton mocked Obama and derided his calls for unity. She made fun of him as though his eleven straight victories in the primaries meant nothing.
Meanwhile, some new national polls show Obama – who trailed Clinton for months – now surging ahead. In one poll Obama has a 16 point nationwide lead over Clinton, suggesting that he continues to build a broader coalition among Democratic voters from all walks of life.
Here's my question to you: What does Hillary Clinton have to do at tonight's debate to slow Barack Obama's momentum?
Interested to know which ones made it on air?

Adrian writes:
I'm a woman. My husband has told me that I've been moody, switched gears, and even seemed to have multiple personalities. Jack, I don't want anyone with that many faces holding down one office. I do believe that a woman can be president, but not that woman. After all, which one would handle our foreign policy?
Justin from Atlanta, Georgia writes:
Clinton must make it clear that Obama speaks in vague terms and has no plan of action for his agenda. She must illustrate that she has a plan and that he does not, while at the same time appealing to those who make decisions based upon emotion and not logic.
Pam writes:
Hillary was presumptuous at first, thinking she would win hands down. Then she realized, "What the heck. This Obama guy is winning everyone over." She had Billy boy pull some ugly stunts, which backfired, and pulled a few of her own, which backfired. All that's left is for the fat lady to sing.
Lashanda from Maryland writes:
Jack, You are asking the wrong question. It's not what Hillary can do to change the dynamics of this race, the question is: What can Hillary do that is best for the country right now? Concede tonight is that answer. Time to come together and focus on the McCain.
Marcus from Houston writes:
There's not much she can do, Jack. She's hurting the Democratic Party with her rhetoric, and making personal attacks against a candidate with whom she's not much different, in terms of policy. I think the people will show next Tuesday that they're tired of Hillary's 'politics as usual'.
Richard from Washington writes:
What does Hillary Clinton have to do at tonight's debate to slow Barack Obama's momentum? Ask Mike Huckabee for a miracle?
Andrea from Lake Charles, Louisiana:
It depends on which Hillary shows up:
1. Mrs. Experience
2. Mrs. Angry
3. Mrs. I found my voice