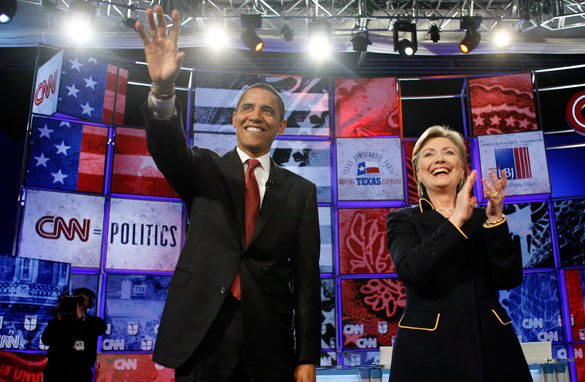 Sen. Barack Obama and Sen. Hillary Clinton debate in the Lyndon B. Johnson Auditorium at the University of Texas on February 21, 2008 in Austin, Texas. (PHOTO CREDIT: GETTY IMAGES)
FROM CNN's Jack Cafferty:
Hillary Clinton has her work cut out for her when it comes to tonight's debate in Cleveland, Ohio. If she has any hope of closing the gap on front-runner Barack Obama next Tuesday in Texas and Ohio, Clinton has got to deliver a big night tonight…a really big night.
The question is, "Which Hillary Clinton will show up?" In the last few days, we've just about seen it all.
At Thursday's debate in Austin, Texas, Clinton showed a softer side – saying she was "honored" to be there with Barack Obama. A couple of days later she morphed into a scolding mother talking down to a child, waving her finger and saying "Shame on you, Barack Obama."
She called him out demanding he "meet her in Ohio for a debate on his tactics and behavior in the campaign." She wasn't finished. Resembling someone with multiple personality disorder, last Sunday Clinton mocked Obama and derided his calls for unity. She made fun of him as though his eleven straight victories in the primaries meant nothing.
Meanwhile, some new national polls show Obama – who trailed Clinton for months – now surging ahead. In one poll Obama has a 16 point nationwide lead over Clinton, suggesting that he continues to build a broader coalition among Democratic voters from all walks of life.
Here's my question to you: What does Hillary Clinton have to do at tonight's debate to slow Barack Obama's momentum?
Interested to know which ones made it on air?