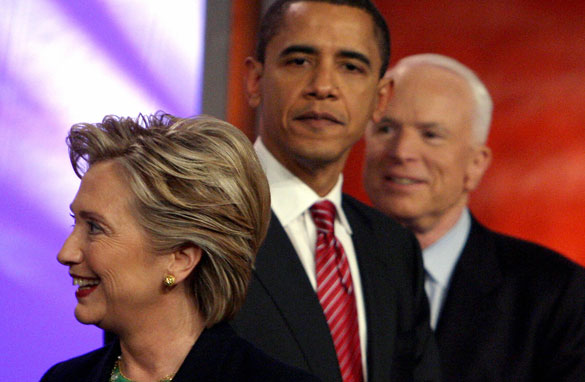 (PHOTO CREDIT : GETTY IMAGES)
FROM CNN's Jack Cafferty:
"Ready on Day One?" That's the question posed by a front-page story in USA Today.
The story looks behind the political slogan and makes a startling discovery. None of the three main candidates for the White House is very long on the kind of experience being touted as necessary to run the country. You see, these three have never run anything that amounted to that much. Not a business, not a large corporation, not a state. No governors here, nothing. They are professional politicians whose managerial experience amounts to overseeing their campaigns and managing their offices in the Senate. Although truth be told, they probably all have someone else who actually does both of those things.
In fact, these three candidates have less executive experience than any president in nearly 50 years.
The irony is the candidates who had the most executive experience – Republican Mitt Romney and Democrat Bill Richardson – are out of the game already. Former Arkansas Governor Mike Huckabee is still in it, but probably not for that much longer.
Experts say voters haven't focused on the readiness issue yet, but eventually they will. Maybe that's because so far, the campaign has been all about "change." And, as hungry as voters are for change, there's probably still something to be said for experience. Some former presidents have dealt with some pretty serious stuff just months after taking office – like JFK and the Cuban missile crisis and Harry Truman's decision to drop the atomic bomb on Japan.
Here's my question to you: When it comes to being president, how much does experience really matter?
Interested to know which ones made it on air?