FROM CNN's Jack Cafferty:
President Obama will try to re-gain the upper hand in the debate over health care reform by addressing a joint session of Congress next Wednesday.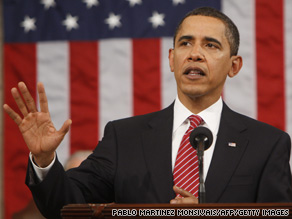 The White House and the Democrats endured a brutal month of August - with rowdy town hall meetings and lots of Republican criticism. Anti-reform forces spent millions trying to defeat the legislation.
President Obama will reportedly use his speech to lay out more specifics for his plan. Specifics have been sorely missing from the president on this from the beginning, and he's come under a lot of fire for only outlining broad principles for what he wants... and leaving most of the details to Congress. Big mistake.
Republicans are already saying the president's speech will be too little, too late... they say the real problem is the substance... and that the American people aren't buying what he's trying to sell. But Democrats are hoping that a more forceful pitch from the president will help move this thing along.
In fact, the Vice President is promising success when it comes to health care. Joe Biden says: "We're going to get something substantial... but there's going to be an awful lot of screaming and hollering before we get there."
Meanwhile - polls show Americans are evenly split on whether to support the president's health care plan... six in 10 younger Americans support it - while six in 10 senior citizens oppose it. It might be worth remembering that it's the seniors who vote in large numbers.
Here's my question to you: What should Pres. Obama say about health care reform in his address to Congress next week?
Interested to know which ones made it on air?
Susan from Tuscaloosa, Alabama writes:
It really doesn't matter what he says to Congress, which is already bought and paid for, but what he says to the public. He's got to lay out the plan with specifics on both coverage and costs… I hope he takes the offensive and hits hard at the critics. Or maybe he should just take Bill Maher's suggestion and tell them he had a vision and Jesus told him to do this. Whatever works.
Ralph from Chicago writes:
The American people have to be given a choice: they have to be told that 14 percent of our G.D.P goes to our health care. In Europe, where no one is left out, they pay 8 percent of their G.D.P. In Europe, they live longer; our birth rate is that of a third world country. The insurance industry has a bottom line; our health is not part of it.
Christopher writes:
The president needs to fight. He needs to put conservatives on their heels by reminding them that this is a moral issue, not just an economic one. These are the same people who wave their Bibles around over gay marriage and abortion. Now that we want to take care of the poor and sick, they put their Bibles down and clutch their checkbooks. He needs to remind Americans that love, not fear, makes us a great country.
Vinny writes:
He should apologize for trying to socialize and bankrupt the country, and say he's taking a couple days off to read the story of why America was founded. Maybe he will understand that America was founded on a limited federal government.
Andy from Cleveland, Ohio writes:
Jack, my man, he should give one of those pre-election speeches. Remember those? Give Congress the details on what exactly he wants. Work the crowd. Show that confidence he once had. Or, maybe he should just grin and say "How about those Browns?"
Brian writes:
He should say, "Members of Congress, fellow citizens, I come before you tonight to confess I used health care as a ploy to get elected. I don't have a clue what to do. There is no plan. When I said if anyone has a better idea put it on the table, I really meant it. Hey, anyone got any ideas?"