FROM CNN's Jack Cafferty:
Al Franken is headed to Washington. Nearly eight months after Election Day, the Minnesota Supreme Court unanimously declared Franken the state's next senator. And once he is sworn in - presumably next week - the Democrats will finally have their so-called super majority; meaning they'll have 60 votes, which is enough to stop any Republican filibuster.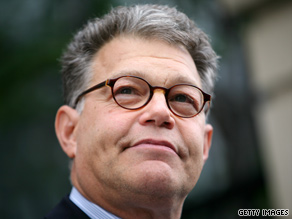 On paper it seems like a home run for Democrats and for President Obama's ambitious agenda in the coming months. But in reality it might not be so easy.
For one thing, Democrats won't always have the 60-vote majority because Senators Ted Kennedy and Robert Byrd are both ill and are only likely to return for the most crucial votes. Also, Former Majority leader Trent Lott once said governing the Senate is like herding cats, and Senate Democrats have already proven they won't fall into line when it comes to some of the president's top priorities.
For his part, Franken insists he's not going to Washington to be the 60th Democratic Senator; but rather to be the second senator from the state of Minnesota. That's what he's supposed to say. But Washington is nothing if not partisan; and Franken just might be able to make a real difference on big votes like health care and climate change.
Democrats are welcoming the news, but say it won't mean they'll just be able to "jam" their agenda through. Meanwhile, one top Republican says the 60-vote majority means Democrats won't be able to blame the minority for being obstructionist any more.
Here's my question to you: What will Minnesota Senator-Elect Al Franken mean for President Obama's agenda?
Interested to know which ones made it on air?
Dennis from Virginia writes:
It doesn't mean jack, Jack. A filibuster-proof majority doesn't help if your party can't agree on anything. There are too many corporatists in the Democratic Party preventing them from ever passing meaningful legislation.
S. writes:
The runaway freight train is coming. Whatever the Democrats want, it is theirs and there is nothing anyone can do about it, until 2010. The flip side: they have no one to blame but themselves when it all blows up in their faces, and it will!
Tom from Las Vegas writes:
Franken gives the Democratic caucus 60 votes but I doubt that the caucus will vote as a unit very often. In the Democratic caucus, there are conservative Democrats from the South, two Independents and Arlen Specter who will no doubt balk at many of the president's initiatives. Even with 60 votes, the Democrats will still need some Republican support to move things forward.
Eric from Texas writes:
It will mean that Obama can now pass anything he wants. He'd better hurry with jamming his crap down our throats because the 2010 midterms are coming up, and those are going to be a bloodbath for Democrats.
Diane from Pennsylvania writes:
I think Al Franken may really challenge Obama on his agenda. He's not coming in as a career politician; he sees it from the outside and therefore may be able to think "outside the box." I'm hoping Al Franken can be a voice of reason. Somebody has to be!
Frankie writes:
To paraphrase President Obama's words today at the town meeting, I hope this shows Republicans that the train has left the station and they had better jump on board.
Sandra from San Diego writes:
Al Franken is the Genie, here to grant Obama's every wish!