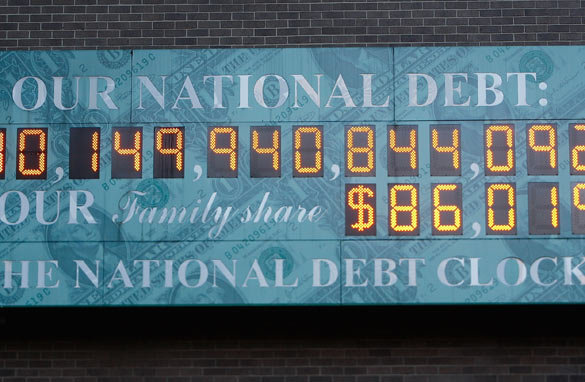 The National Debt Clock in midtown Manhattan shows the total U.S. government debt as well as the calculated amount per U.S. family. (PHOTO CREDIT: STAN HONDA/AFP/Getty Images)
FROM CNN's Jack Cafferty:
President Obama wants to have it both ways. He wants the government to stick to pay-as-you-go rules in order to keep federal budgets under control.
The nation's deficit is expected to top $1.8 trillion this year - more than four-times last year's all-time high.
The president wants Congress to pass a law that requires lawmakers to pay for new spending and tax cuts without adding to skyrocketing deficits. He says the rule, which was in effect in the 1990s when the U.S. had budget surpluses, is simple: "Congress can only spend a dollar if it saves a dollar elsewhere."
But the president apparently wants pay-as-you-go to apply to everybody but him. This plan would make about $2.5 trillion of exemptions for some of the president's priorities over the next 10 years. And Mr. Obama's health care reform plan would also be able to run huge deficits in its early years. Hardly the stuff of fiscal restraint.
Republicans are warning that health care reform will add to budget deficits for years to come. House Minority Leader John Boehner says the Democrats have ignored calls for fiscal responsibility, and he's right: "We don't need more rhetoric and gimmicks. We need action to tackle the tremendous fiscal challenges facing this nation."
Of course, the Republicans ran up record deficits under President Bush, so Boehner's cries ring a little hollow.
Here's my question to you: Is it okay to add to the record national debt in order to pay for health care reform?
Interested to know which ones made it on air?
Brian from Philadelphia writes:
Social Security is going broke, and everyone in Washington knows it. Medicare is going broke, and everyone in Washington knows that too. Do we really want them to be in charge of another multi-trillion dollar program that they can mismanage into oblivion, except this time our very lives could be at stake? No, thank you.
Peg from New York writes:
I honestly do not know. It would seem that health care should have always been a top priority. I am a cancer survivor who had to declare bankruptcy due to health care costs. If you are fortunate enough to survive, I can assure you, bankruptcy is not anything to look forward to. Something has to be done, and it is long overdue.
Fred writes:
I certainly think so. They have added billions to the debt for Wall Street, the banks, AIG… need I go on? Give something to the people who financed the bailout, the taxpayer.
Matt writes:
The only way we'll be able to stop the ballooning national debt is by fixing health care.
Judy writes:
Continuing to blame the former administration is getting old. It is time to stop spending and get things under control. That means for heaven's sake do not continue to pile on more for health care reform. And do not even think about raising taxes on those who have health insurance by taxing that insurance. This is obscene.
Mark from Arkansas writes:
Jack, France can offer health care, as can Canada, Great Britain, even nasty old Cuba. Why in the world can't the most advanced economy on the planet figure out how to do the same? How about this idea: Have the president pick up the phone, call one of these countries and ask the following: "Hey, how do you guys do that?"