FROM CNN's Jack Cafferty:
President Obama may not have much time to help broker a peace deal in the Middle East. King Abdullah of Jordan tells the London Times that Mr. Obama's meeting next week with Israeli Prime Minister Benjamin Netanyahu has become the acid test for the administration's commitment to peace.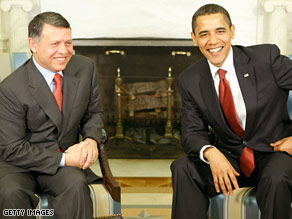 Jordan's King Abdullah II met with Pres. Obama last month. King Abdullah is the first Arab leader to visit Obama in the Oval Office. He used the opportunity to push the U.S. to revive Israeli-Palestinian talks.
King Abdullah says all eyes will be on Washington; and if there are no signs of progress, the Arab world will feel like yet another American government has let them down. He suggests that overnight, President Obama could lose the "tremendous credibility" he's built up in the Arab world.
And that would be a shame because Mr. Obama has a pretty impressive level of support over there. A new Ipsos survey polled 7,000 adults in Saudi Arabia, the United Arab Emirates, Kuwait, Lebanon, Egypt and Jordan. The poll shows President Obama gets a 48 percent favorable rating, running as high as 58 percent in Jordan. Only one in 10 residents across the region think the U.S. president will have a negative effect on their country.
Compare that to the U.S., which has a favorable rating of only 33 percent - and a negative rating of 43 percent.
President Obama is set to give a major speech to the Muslim world in Egypt next month; and perhaps his high approval ratings can help him get closer to a peace deal between Israel and the Palestinians.
But there's no question the stakes are high. King Abdullah says that If peace negotiations are delayed, there will be another conflict between Muslims and Israel in the next 12 to 18 months.
Here's my question to you: When it comes to peace in the Middle East, how can President Obama succeed where other U.S. presidents have failed?
Interested to know which ones made it on air?
Richard from Canfield, Ohio writes:
President Obama can succeed if he can get the women of Israel and Palestine to provide input into the peace process. It is the women who have suffered the most with all the killings on both sides. They are losing their families in this tragedy. The women can succeed where the men have failed.
Phil from Washington writes:
The real problem here is Netanyahu, a hard-core right winger. If Obama can convince him to have an open mind and be receptive to compromise, there may be a real breakthrough here. But I won't be holding my breath.
John from Louisiana writes:
Bush set Middle East peace back 10 years by his completely one-sided policy in favor of Israel's ultra-right government and every anti-Palestinian action they took. Obama can help by restoring balance and honesty to U.S. policy–and stopping Israel's right-wingers from continuing to isolate and assault these people. Get rid of the wall, for one. Get rid of the settlements, for two. And honor all the agreements from the past, for three.
Cliff from Rego Park, New York writes:
President Obama will never succeed unless he manages to elicit to fundamental changes from the Arab world. First, recognize Israel's right to exist and second, remove all anti-Semitic teachings from their school textbooks. Peace starts with human decency and respect. That is the first lesson Pres. Obama needs to convey.
John from Watertown, Massachusetts writes:
The term "Middle East peace" should be forgotten. Most Israelis are in favor as I'm sure are most Palestinians, but we will never see it. There are simply too many militants who will never put away their automatic weapons and rocket launchers.
Debbie from Kansas City, Missouri writes:
President Obama has a chance to win the hearts and minds of the public. As we know, it is the people, who can best influence what happens in the government. Presidents and prime ministers will be more inclined to make agreements, if their people want them to.