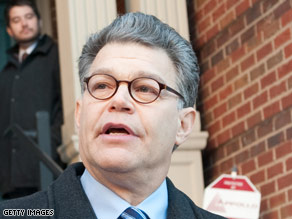 FROM CNN's Jack Cafferty:
Call it the Minnesota Follies. The land of 10,000 lakes and Jesse Ventura is now threatening to give us a senator from Saturday Night Live. What's wrong up there? Two months after the election and they're still trying to figure out who won.
How tough can this be? It's not like counting all the votes in China.
The contest between incumbent Norm Coleman and Democratic challenger Al Franken is starting to resemble the telethon for Jerry's kids.
On Monday the state canvassing board certified the recount and declared Franken the winner. But Coleman won't go away.
He's filing a lawsuit to challenge the recount of the recount. The move could drag this thing out until spring. His lawyers said the process is just beginning. That's what lawyers do. The longer they can drag things out, the more money they make.
The rest of the country managed to elect their lawmakers without a problem back in November. Georgia had a runoff, but that's long since over. It's now January and the 111th Congress has convened.
When it comes to elections, Minnesota is starting to make Florida look efficient.
Here's my question to you: Why is it taking Minnesota so long to elect a senator?
Interested to know which ones made it on air?
Dave from Missouri writes:
Jack they are about to put a completely unqualified comedian into the United States Senate. They better make sure they get it right!

Glenn from California writes:
Jack, why so long? It's a great opportunity for the lawyers to make a windfall profit in these tough economic times. Since Coleman's planning on continuing the fight, the lawyers will milk this cow for as long as they can. At least they're not suffering from the economic crisis like the rest of us are.
Craig from Hastings, Minnesota writes:
Coleman LOST! He should step aside and let's get on with our problems. Got to feel sorry for old Normie though. He's the only politician I know of who can lose a statewide election to a professional wrestler, sneak in the back door when Paul Wellstone is killed, and then lose another statewide election to a comedian.
Jeff writes:
Calm down, Jack. It's cold up here in Minnesota and sometimes things move slower than they do in New York. It was a close election and we want to make sure we get the results right. It's a small fraction of one percent that separates these candidates. Democracy is about getting it right and if Norm Coleman wants a court to double-check that we got it, the law allows him to do it. Florida was a fiasco. Minnesota is just meticulous.
Gary from Woodhaven, Michigan:

Neither candidate knows how much to pay the Governor, oops, wrong State. This is between the jester and the jackass, you pick.
Mark in New York
Given Minnesota's inability to govern itself, perhaps it should be folded into North Dakota? Who would really notice?