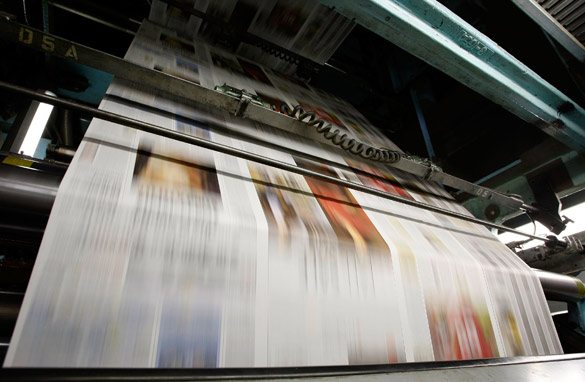 (PHOTO CREDIT: JUSTIN SULLIVAN/GETTY IMAGES)
The newspaper industry could be at a breaking point. Tribune Company filed for Chapter 11 this week and the Wall Street Journal reports that the New York Times Company, which publishes 19 newspapers, is negotiating with lenders to borrow less next year due to falling ad revenues.
Newspaper publishers say there's been a 15 percent drop in advertising sales across the industry this year and the outlook is bleak for 2009.
Papers were already struggling to compete with cable TV and the internet and now the economic downturn is spelling more trouble.
Last year Tribune, which owns television stations and newspapers, went private and was bought out for $8.2 billion but it wasn't enough to save them.
The New York Times has been cutting costs by consolidating and closing print plants.
McClatchy Company, which owns 30 newspapers, cut 2,550 jobs this year and took other steps to cut $200 million. But it still may not be enough.
Here's my question to you: What does it mean that so many newspapers are going under?
Interested to know which ones made it on air?
Tom from Avon, Maine writes:
It means democracy is at risk. A citizenry that forms its opinions on the basis of sensationalized misinformation from demagogues on talk radio and faux news is not serving its nation. An informed citizenry has to participate if democracy is to work. But without newspapers with traditional Fourth Estate standards, America is history.
Judy from Exeter, California writes:
Because like the car industry, the newspapers refused to keep up with the times. The internet has replaced them with information at our fingertips. What have these guys been doing all these years? Why haven't they kept up with technology? This just seems like the natural order of things, when something better comes along and you don't get your butt in gear and get competitive, then you are going down.
Willow from Iowa writes:
I can get all the information I want on the internet. I go to CNN.com, then head on over to BBC, my local newspapers are online, I have ABC, MSNBC, Countdown with Olbermann, and I can read any newspaper from any city online. I enjoy going to political blogs, and I read Huffington Post and Politico. I haven't bought a newspaper in about 10 years, sorry to say.
Bryan from Colorado Springs, Colorado writes:
Jack, Under the thinking of our current government I would say its because they haven't received a bailout package from congress and we have not yet appointed a newspaper czar.
Terry from North Carolina writes:
Jack, You and Wolf and CNN are putting them out of business, you're a lot more interesting than the newspapers.