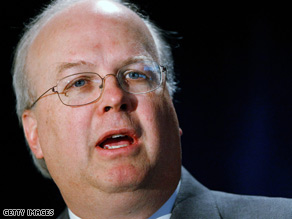 FROM CNN's Jack Cafferty:
No big surprise here: Karl Rove has signed a $1.5 million book deal with publishing giant Simon and Schuster.
He promises the usual behind-the-scenes look and vows to not only name names. He told Fox News he'll go a step further and give examples of how Washington insiders were unaccepting of President Bush. A lot of them simply felt Bush was not qualified to lead the country. Rove also says that while Bush was quick to call on his subordinates to take responsibility for their actions, "The Decider" was a little slow to ever take responsibility for his own. According to Rove, Bush's failures were always somebody else's fault.
He says he will identify those who questioned whether or not George Bush could be a legitimate President.
In an interview Rove said much of the resistance to the Bush Administration was directed toward the Texans Bush brought with him to Washington because they weren't Beltway insiders.
Here's my question to you: What would Karl Rove have to say to get you to buy his book?
Interested to know which ones made it on air?
Pete from Florida writes:
Jack, I think you're just trashing Karl Rove's book in an attempt to "size down" the competition against your book. Good move.
Jim from North Carolina writes:
Karl Rove is one the most intelligent men that the public has ever seen. He would not have to say much for me to buy his book. His book would be a most interesting read. On the other hand, it would take a balanced person with unbiased opinions to understand it.
Daniel writes:
There is NOTHING under the sun, no scenario or condition imaginable, that could get me to buy, steal, or even bother to read anything by Karl Rove. It is time for all Americans, ESPECIALLY patriotic Republicans, to finally and forever say "goodbye" to the divisive, evil and dirty politics of people like Karl Rove, Lee Atwater, Rush Limbaugh, Sean Hannity, and Steve Schmidt. We can all start by refusing to:
a) watch them on television,
b) listen to them on radio, and
c) purchase or support anything they have to offer.
Ken from North Carolina writes:
Jack, if he threatened to run off with my wife, I would run out and buy two books. One to take her, and one to keep her.
Kathleen from Boston, Massachusetts writes:
Karl Rove would have to tell me he was involved in a homosexual encounter with Vladimir Putin and Saddam Hussein. Then I might consider it.
Monty writes:
I am interested in learning of the people who were unwilling to give George Bush and his team credit for anything positive. Jack, my guess is that you will be named as one of those people. I will not be buying your book. I'm sure you won't read my comment.