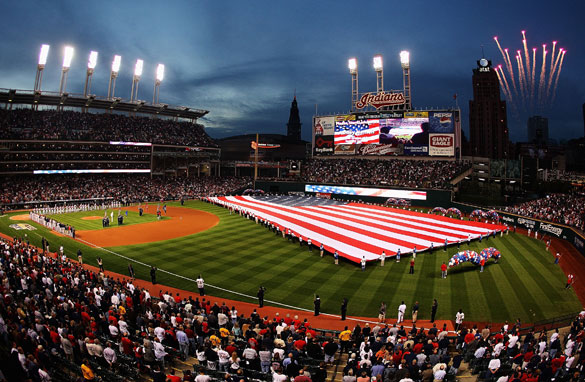 (PHOTO CREDIT: GETTY IMAGES)
FROM CNN's Jack Cafferty:
"Just as the world is opening up, we are closing down."
That's a quote from a terrific Newsweek cover story by Fareed Zakaria called "The Rise of the Rest" that explores what's happening to the United States during this global power shift.
Zakaria examines "The Post-American World" where by almost every measure – from industrial to financial, to social to cultural – the distribution of power is shifting away from the United States. It's a stark change from the superpower status we've had for most of the last century. He talks about the dark mood of many Americans, with more than 80% of the country believing we're on the wrong track.
Zakaria says that this post-American world shouldn't necessarily be an "unsettling prospect for Americans." He says it's the result of a series of positive trends that have welcomed in an international climate of "unprecedented peace and prosperity." He points to economic growth of many countries all around the globe and insists that America is benefiting from these trends of globalization.
Even as the rest of the world continues to rise around us, America remains "the most open, flexible society in the world, able to absorb other people, cultures, ideas, goods and services."
Zakaria says American society can adapt to this new world, but wonders if our government can. He points to our narrow foreign policy and desire to be the global rule-maker but then to not always play by the rules.
Here's my question to you: Is America fading from its position as the most powerful nation in the world?
Interested to know which ones made it on air?
Karen from Fairfax, California writes:
Yes. While we decimated our image with the Iraq war, the globalization-of-economics cat has jumped out of the bag. The world is changing while we've not been watching, while we sit back fighting a dumb war and coddling our preoccupation with controlling power and oil in the Middle East. If we're going to regain any respect and power as a nation, we have to learn how to lead with wisdom rather than military and economic might.
Brian writes:
The good ole USA has been fading for a long time. Everybody is padding their pockets and selling the U.S. down the river. Maybe it's time for a major revolution in this country.
Jerry writes:
Of course not. America has survived, two world wars, robber barons, the Great Depression, and your pessimistic questions. Have a little faith, Jack.
Donald writes:
Absolutely, America is fading. Look throughout history and you'll find every great power or empire has fallen. America is falling behind in the technological race and killing itself through bad leadership and self-serving politicians. Although we are still a military superpower, the country as a whole has done much to lose that status over the last eight years.
Anonymous writes:
As you may have heard, the Bush Administration said each of us would get a rebate check to stimulate the economy. If we spend that money at Wal-Mart, all the money will go to China. If we spend it on gasoline, it will go to the Arabs. If we purchase a computer, it will go to India. If we purchase fruit and vegetables, it will go to Mexico, Honduras, and Guatemala. If we purchase a good car, it will go to Japan. If we purchase useless crap, it will go to Taiwan. And none of it will help the American economy. We need to keep that money here in America. The only way to keep that money here at home is to spend it at yard sales, since those are the only businesses still in the U.S.