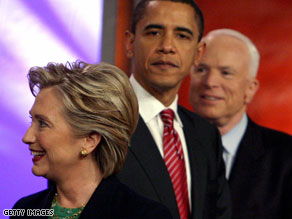 FROM CNN's Jack Cafferty:
Over the course of the campaign, Americans' views of the top three candidates have changed some. According to a Gallup poll done in late April, here are some of the qualities associated with each:
John McCain: he's "too old, he's a "good man, likable," he would give the country more of the same - be another George Bush, and he has a "good military background." And the number of people who view him favorably are about equal to the number who don't like him.
When it comes to Hillary Clinton, the most common perceptions are that she is dishonest or not trustworthy, past scandals or baggage associated with her husband, the former president, that she is qualified, capable, and strong.
But the number of people who have a negative view of her, 55%, is almost twice the number that view her favorably, 30%. Barack Obama is viewed slightly more positively than negatively, 42% to 39%.
People see him as young and inexperienced but with new ideas. He is also seen as lacking substance-all talk and no action. People disagree with his religious views (Thank you Rev. Wright) and he is seen by some as an "elitist" or "snob," although those views are not widely held.
He is also, of course, much better known now than when the campaign began.
Here's my question to you: How has your perception of the three major presidential candidates changed during the course of the campaign?
Interested to know which ones made it on air?

Kel from Auburn, Alabama writes:
Of course, Jack. I went from a slight dislike against Hillary to utter disdain. I can't stand her and because of her dirty politics I'm ready to see her leave. In my eyes, she's not worthy of the nomination. She's only even a candidate because her husband was president not because she worked to get there and actually inspired people from the ground up like Obama.
Judy from Dodge City writes:
Jack, what's changed is my perception of the Republican party. I was raised by staunch Republicans and have never voted any other way ... until this year. I'm through. Finished. The situation has become untenable. Forgive me if I sound harsh, but there isn't a snowball's chance that I'd vote for John McCain. And Hillary gets on my last nerve. Barack Obama represents hope for the future, and I could very easily listen to him talk for the next eight years.
Patricia writes:
The day before the California primary I was ready to vote for Hillary ... then I listened to Obama give a speech for the first time. It literally gave me the chills. I jumped on the Obama train and am still riding it strong. In the beginning, the thought of an Obama/Clinton ticket was something I thought of fondly. Not anymore … she's changed my heart by her negative, destructive, do anything-to-win, ugly campaign.
Lisa from Huntsville, Alabama:
I was very excited about the Democratic primary at first, but now it just reminds me of bickering children – I'm voting for John McCain in November no matter which snot-nosed Democrat gets nominated. I'm confident that, at least, even if he croaks before he finishes his term, he'll try to do it respectably...
Mary writes:
Yes it has changed. As an Independent I was ready to support, work, and vote for any one the Democrats put on the ballot in '08 – I have had enough of Bush/Cheney. Then the 'kitchen sink' appeared, then the rules of the DNC are questioned then I hear "obliterate Iran!" If Clinton is the Dems' choice, I will vote for "myself." I cannot vote for McCain and will never vote for the Clinton Machine again in my life time.